Recipes
Mint-Chip Cookies
Crushed peppermint candy and milk chocolate chunks add color and textural pizzazz to these rich and giftable treats.
Serves

MAKES 80 Cookies

Cook

5 hours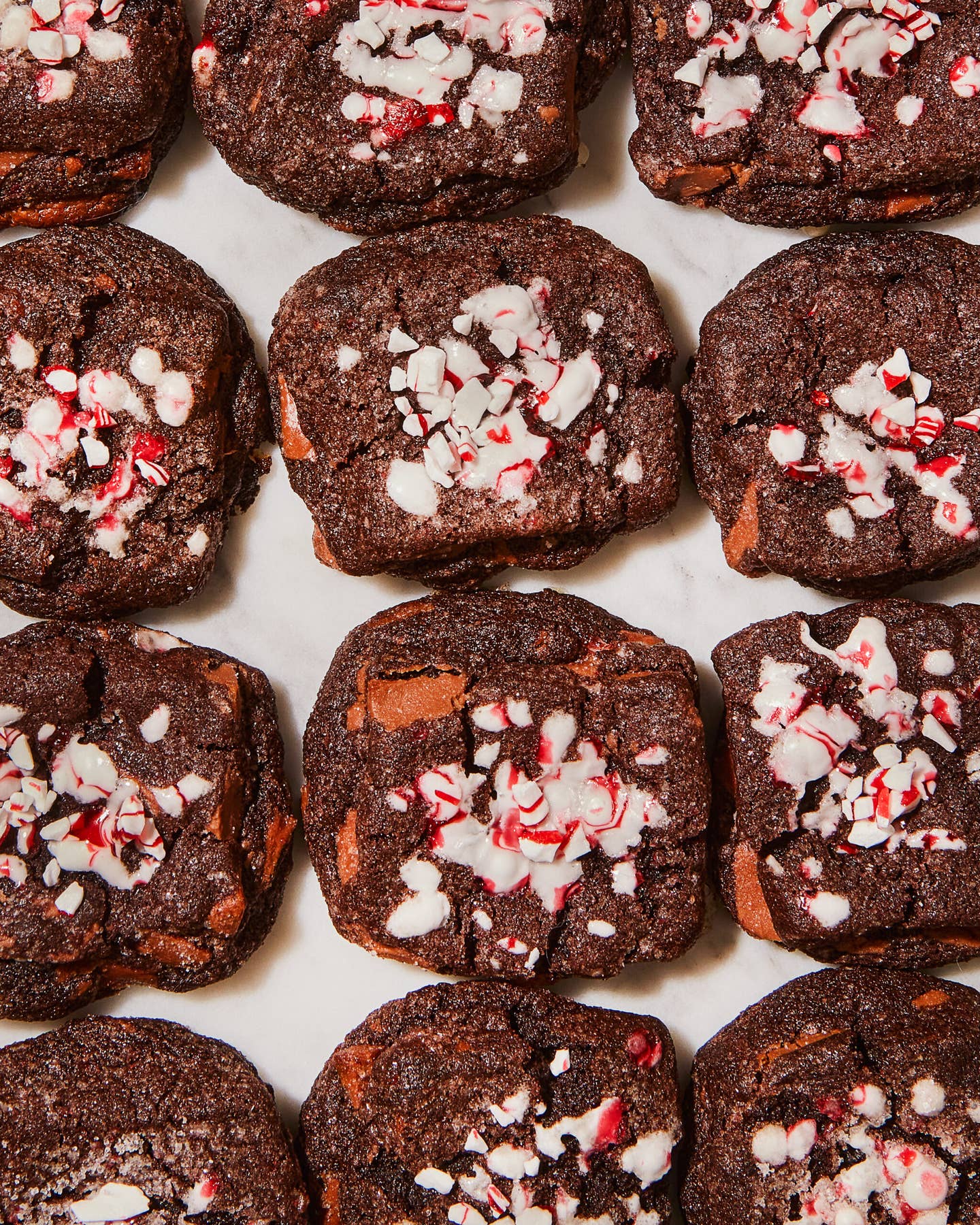 This recipe, from pastry chef Kierin Baldwin, appeared in the 2012 edition of our Holiday Cookie Advent Calendar. "I'm a junkie when it comes to the mint-chocolate flavor combo," she says, "and this cookie definitely fits the bill. The pieces of candy cane melt slightly as the cookies bake, giving them a beautiful, shiny holiday look." Baldwin finds that baking the soft chocolate cookie dough pieces straight from the freezer, quickly and in a hot oven, keeps them brownie-soft in the center.
Ingredients
1⅔ cup all-purpose flour
1 cup plus 1 Tbsp. Dutch-process cocoa powder
2 tsp. baking soda
1¾ cup sugar, divided
12 Tbsp. unsalted butter
½ cup packed dark brown sugar
¼ cup vegetable shortening
1 Tbsp. kosher salt, divided
1 tsp. mint extract
1 tsp. vanilla bean paste or vanilla extract
2 large eggs
12½ oz. milk chocolate, coarsely chopped
5 large peppermint candy canes (2½ oz.), 2 finely chopped plus 3 left whole
Instructions
Step 1
Into a medium bowl, sift the flour, cocoa powder, and baking soda. In the bowl of a stand mixer fitted with the paddle attachment, cream together ¾ cup sugar, the butter, brown sugar, shortening, 2¼ teaspoons salt, mint extract, and vanilla paste on medium-high speed until pale and fluffy, 3–4 minutes. Add the eggs one at a time, scraping down the bottom and sides of the bowl after each addition, and continue beating until smooth. Turn off the mixer, add the sifted flour mixture, then mix on low speed, stopping the scrape down the bottom and sides of the bowl once or twice, until just combined. Stir in the chocolate and chopped candy canes, then scrape the dough out onto a large sheet of parchment paper and shape into a ½-inch-thick square. Wrap the parchment around the dough, wrap tightly in plastic wrap and freeze until firm, at least 4 hours. (The dough may also be prepared ahead of time and stored in the freezer for up to 1 month.) 
Step 2
Meanwhile, make the peppermint sugar: In the bowl of a food processor, pulse the remaining sugar and candy canes until coarsely ground. Transfer to a medium bowl and set aside.
Step 3
Position a rack in the center of the oven and preheat to 425°F. Line 4 large baking sheets with parchment paper and set aside.
Step 4
Unwrap the chilled dough and, using a large chef's knife, cut it into approximately eighty 1½-inch squares. Toss the dough pieces in peppermint sugar to coat, then place them 2 inches apart on the lined baking sheets. Sprinkle the remaining peppermint sugar atop the squares and return to the freezer until firm, about 30 minutes.
Step 5
Bake the cookies 1 sheet at a time, rotating the pans halfway through, until just set with slightly cracked top surfaces, about 8 minutes. Set aside to cool slightly before transferring to a wire rack to finish cooling to room temperature. Serve immediately or pack into an airtight container. Stored in a cool, dry place, these cookies keep well for up to 1 week.