Recipes
Piccolo Pete's Prime Rib
Bring a beloved Omaha steakhouse specialty home.
Serves

serves 8-10

Cook

3 hours 20 minutes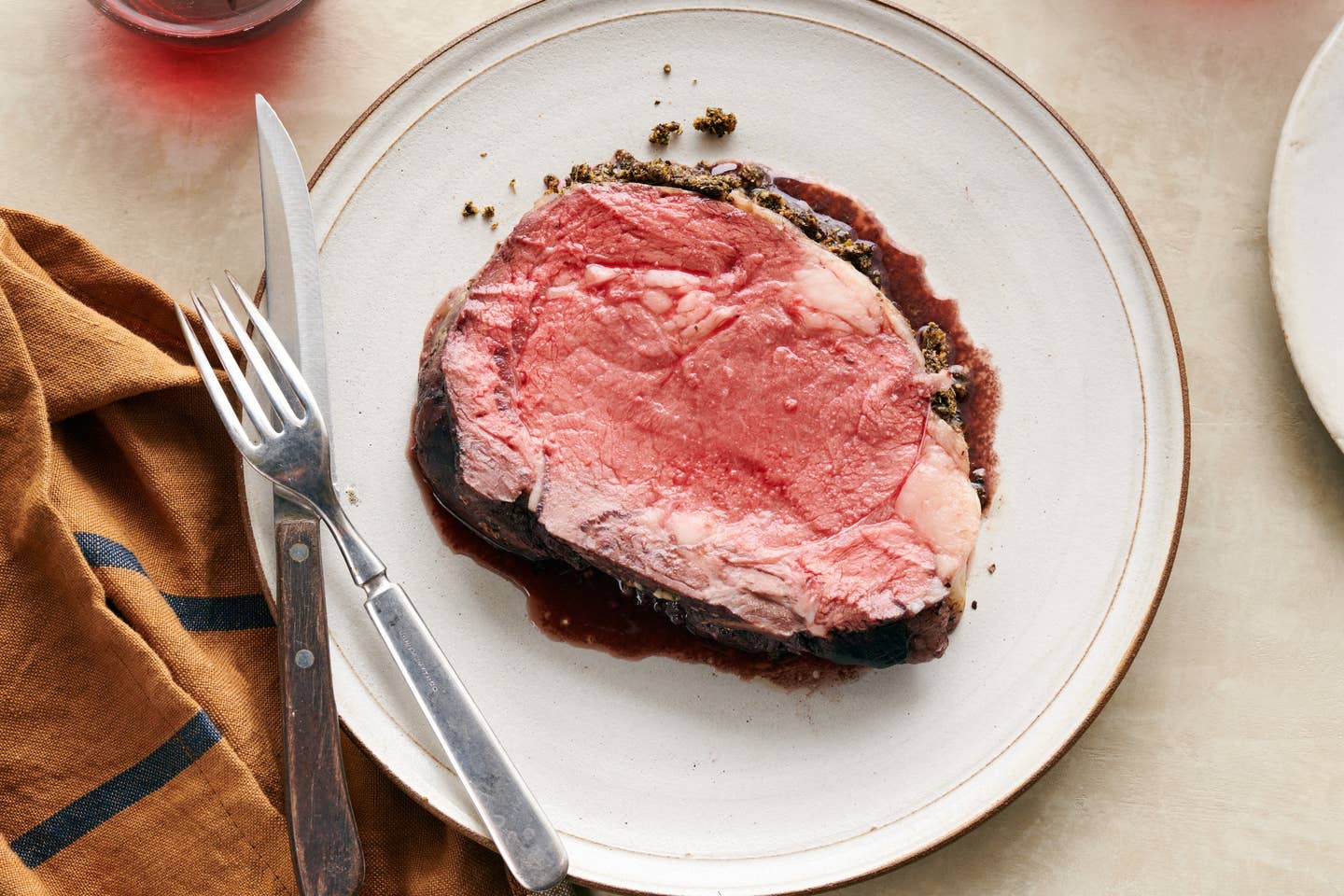 Prime rib is a beloved Omaha, Nebraska, steakhouse specialty. This recipe—one of our favorite versions—comes from the now-defunct restaurant Piccolo Pete's, where the meat was rubbed with Italian spices, slow-cooked, then and blasted with high heat to form a flavorful crust. Use any leftover roast in this prime rib sandwich for a meaty lunch the next day. This recipe first appeared in our August/September 2013 Heartland issue.
Ingredients
¼ cups coarsely ground black pepper
3 tbsp. dried basil
2 tbsp. dried oregano
1 tbsp. dry mustard
1½ tsp. celery salt
15 cloves garlic cloves, coarsely chopped
One 5-lb. boneless prime rib roast
1½ cups dry red wine
Instructions
Step 1
Position a rack in the center of the oven and preheat to 200°F.
Step 2
In the bowl of a food processor, add the pepper, basil, oregano, mustard, celery salt, and garlic, and process to a fine paste; set aside.
Step 3
Using kitchen twine, tie the meat securely at 1-inch intervals, then place in a roasting pan. Pour the wine into the pan and cover tightly with foil. Roast until an instant-read thermometer inserted into the thickest part of the meat reads 105°F, 2½–3 hours. Remove from the oven and increase the oven temperature to 500°F. Uncover the meat and rub the roast all over with the reserved spice paste. Return to the oven and cook, uncovered, until the meat's internal temperature reaches 120°F, 15–20 minutes more. Set aside to rest 20 minutes before slicing. Serve hot, with warm pan drippings on the side.