Recipes
Whole Roasted Black Bass with Potatoes, Green Olives, and Salsa Verde
Serves

serves 4

Cook

40 minutes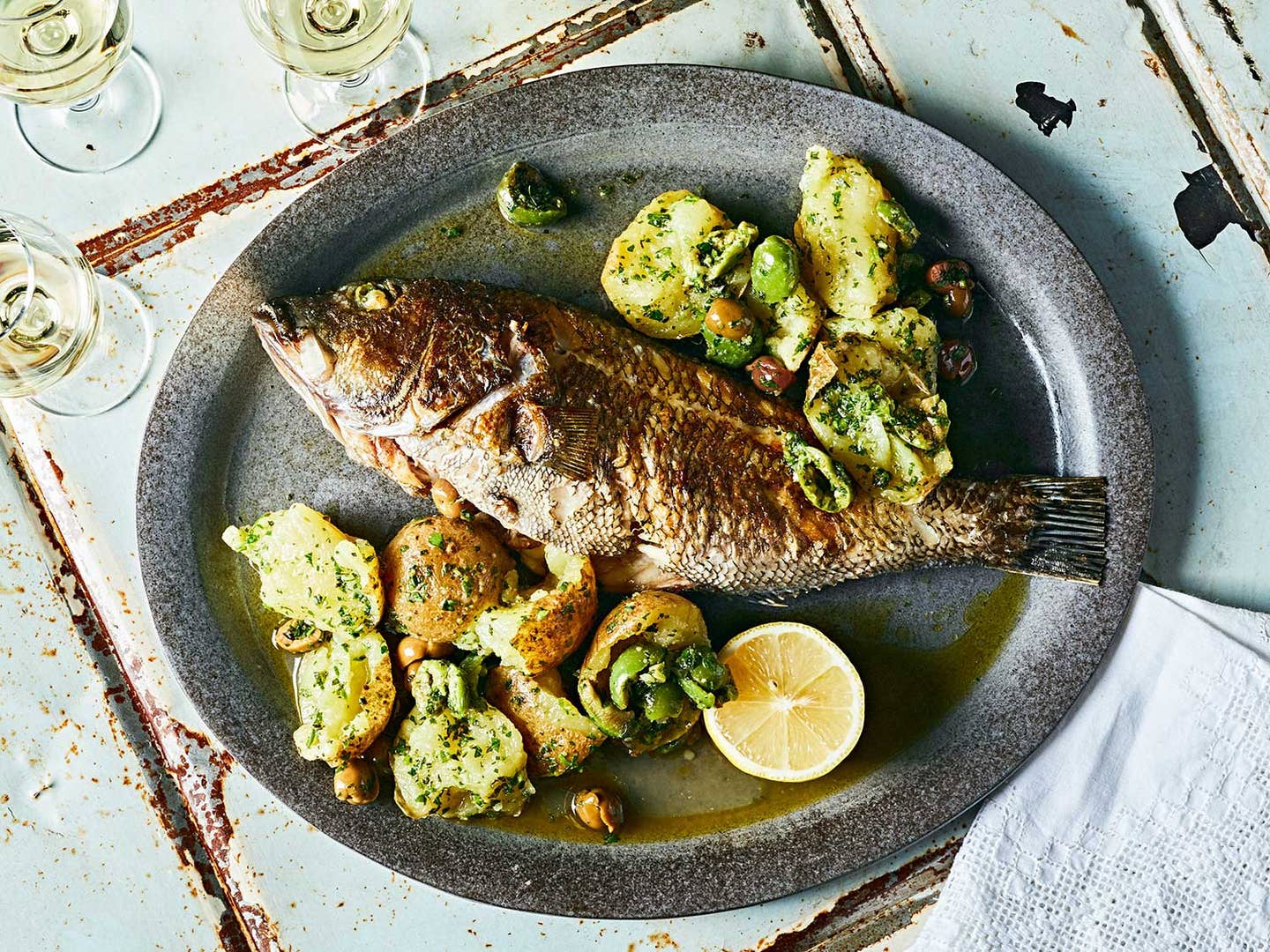 Black bass is in season through the winter in the northeastern United States, when chef Nick Perkins and Katie Jackson from Hart's say the fish are plumpest and at their best. But any similar white fish works well in this whole roasted fish recipe, including duarade, branzino, or red snapper. "Since, with whole fish, you're already contending with so much when picking it apart and eating it, it's really nice to serve it with a homey, simple side." He and chef Katie Jackson choose warm potatoes, broken apart and served with an olive-y salsa verde.
Ingredients
For the potatoes, olives, and salsa verde:
Leaves from 1 bunch Italian parsley, very finely chopped
Leaves from 1 bunch mint or spearmint, very finely chopped
4 cloves garlic, finely chopped
2 tbsp. capers
Finely grated zest of 3 lemons
1 cup castelvetrano olives, smashed with the side of a chef's knife and pitted
1 cup arbequina olives, smashed with the side of a chef's knife and pitted
Fresh lemon juice, to taste
Extra-virgin olive oil, to taste
12 medium Yukon gold potatoes, 1–2 inches wide each
Sea salt, for finishing
For the fish:
1 2-lb. black bass, gutted and scaled, fins trimmed off back and sides
Extra-virgin olive oil, for serving
Salt
Instructions
Step 1
Make the salsa verde: On a large cutting board, add the parsley, mint, garlic, capers, and lemon zest. Chop, combining the ingredients continually, until they combine to form a nice fine pulp. Transfer to a bowl and add the olive flesh and some lemon juice, olive oil, and a small pinch of salt to taste (it should be enough to make the ingredients pasty but not too runny); reserve.
Step 2
Preheat the oven to 350°F. Add the potatoes to a pot with enough water to cover by 1 inch. Bring to a boil and season generously with salt. Let cook until tender, about 25 minutes.
Step 3
Meanwhile, using paper towels, pat the outside of the fish dry. Drizzle both sides lightly with olive oil and sprinkle lightly with salt. In a large ovenproof skillet, heat about 2 tablespoons of olive oil over medium-high heat. Once hot, add the fish and cook on one side until seared lightly, about 1 minute. Remove the pan and carefully turn over the fish to reveal the more seared side.
Step 4
Transfer the fish to the oven and cook until the flesh is opaque, about 6–7 minutes.
Step 5
Drain the potatoes and let them cool slightly. Remove the fish from the oven. Once the potatoes are cool enough to handle, break each into 2–3 pieces. Toss in some of the salsa verde, and season with sea salt if needed. Serve the potato mixture with the fish while everything is still hot.