Recipes
Chocolate-Coconut Macaroons
This classic, chewy cookie is the ideal make-ahead dessert.
Serves

Makes 16 macaroons

Cook

45 minutes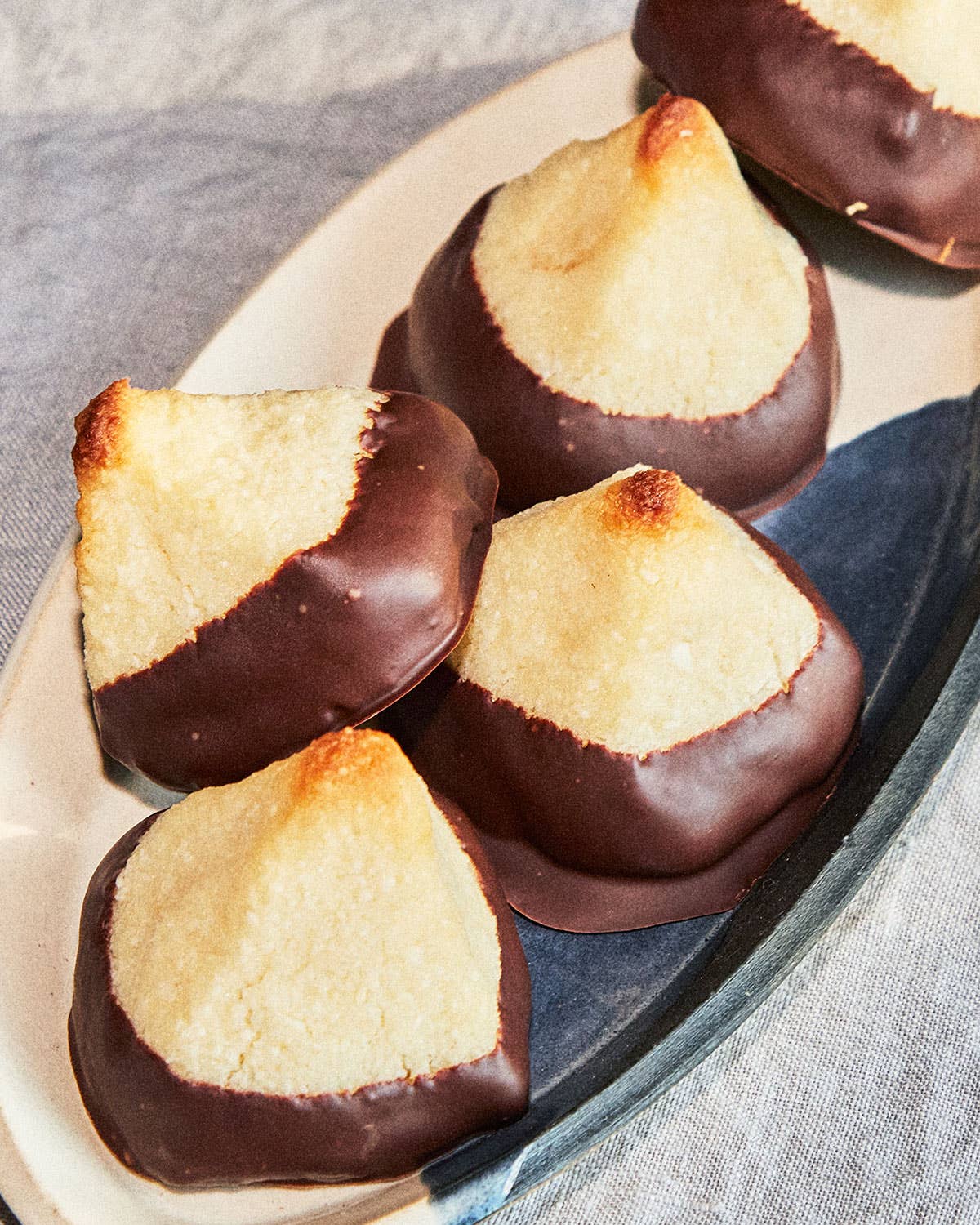 This classic, chocolate-dipped coconut macaroon recipe is adapted from one shared with us by the Munich bakery Rischart. Be sure to seek out unsweetened desiccated coconut, which is dryer and more finely ground than "shredded" or "flaked" types. Tempering the chocolate is unnecessary when serving the macaroons straight from the fridge, but if you're planning to give the cookies as a gift, you can find our step-by-step guide to tempering chocolate here.
Ingredients
½ cup sugar
¼ cup heavy cream
4 Tbsp. unsalted butter, melted
3 Tbsp. all-purpose flour
½ tsp. vanilla extract
½ tsp. kosher salt
2 large egg whites
1 large egg
2 cups unsweetened, desiccated coconut
4 oz. semisweet chocolate, melted
Instructions
Step 1
Preheat the oven to 350°F. Line two large baking sheets with parchment paper and set aside.
Step 2
In a large bowl, whisk together the sugar, cream, melted butter, flour, vanilla, salt, egg whites, and egg until smooth; stir in the coconut. Transfer the batter to a piping bag fitted with a ¾-inch fluted tip and pipe sixteen 1½-inch wide mounds onto one of the lined baking sheets, spaced 2 inches apart. (Alternatively, the batter may be chilled in the fridge, then scooped into balls or shaped into pyramids.) Bake, rotating the pan once halfway through, until the macaroons are evenly golden brown, about 15 minutes. Set aside to cool completely to room temperature.
Step 3
When the macaroons have cooled, dip the bottom of each cookie in the melted chocolate, then place them on the clean lined baking sheet. Transfer to the fridge to chill until the chocolate sets. Serve immediately or transfer to an airtight container and store in the fridge for up to 1 week.
NOTE: This recipe has been adjusted from the version that ran in the December 2012 print edition of SAVEUR. The yield has been decreased, and the quantity of flour has been increased.