Recipes
Red Snapper Sinigang
For New York chef and cookbook author Leah Cohen, this beloved Filipino soup is comfort in a bowl.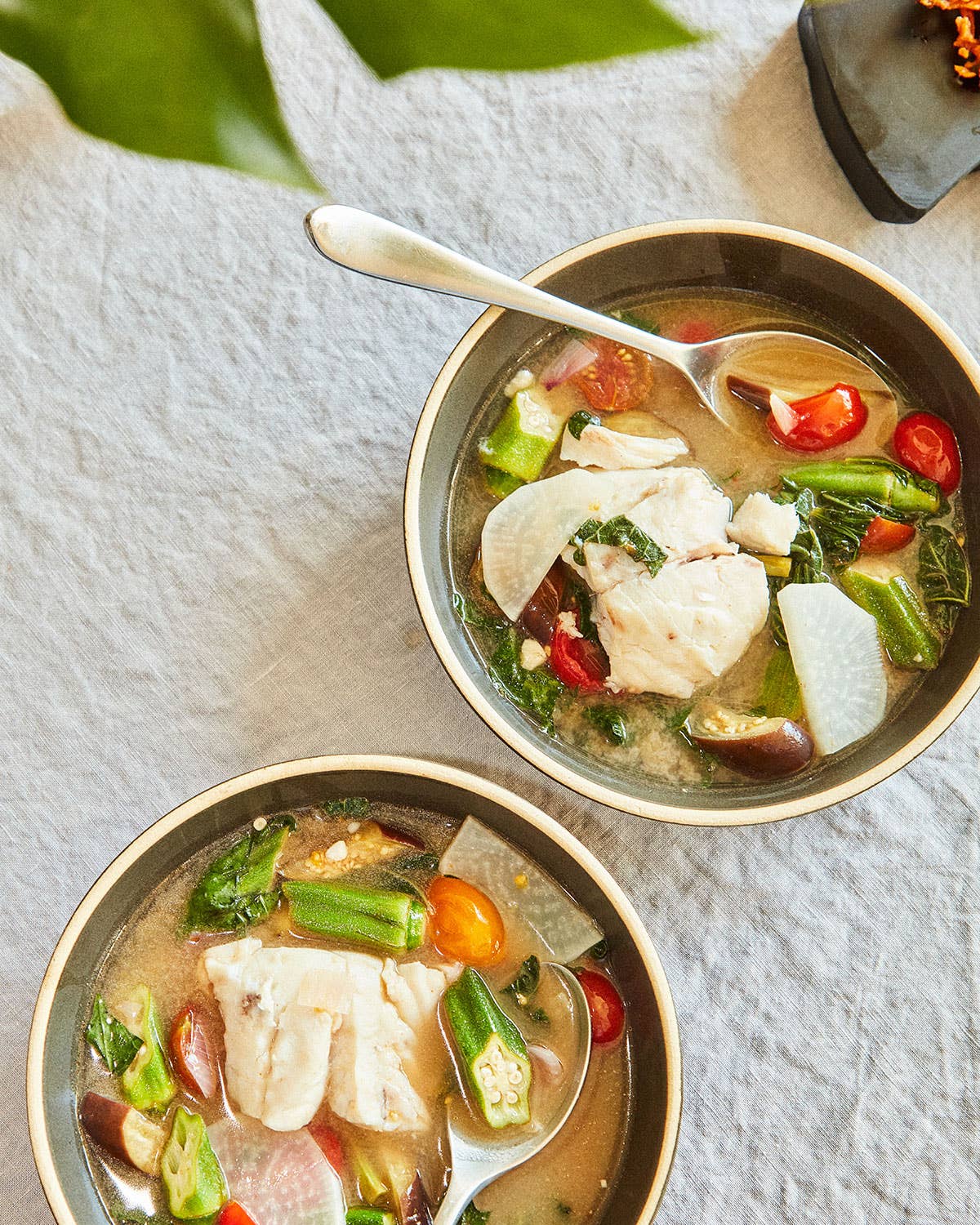 Traditionally, Filipino sinigang can include pork, chicken, or fish. New York chef Leah Cohen grew up eating her mom's seafood versions of the tangy, tamarind-laced soup, and still today, this is the only style of the dish that she'll make or eat. Impressive and colorful enough for a dinner party, Cohen's sinigang recipe is also easy, mild, and nourishing enough for a soothing sick-day supper.
Look for sinigang powder (Cohen likes Mama Sita's brand)—at your local Asian grocery store, or otherwise order it online. Make your own tamarind extract from the blocks of cooked tamarind pulp available at Asian and Latin American markets.
Ingredients
1 red snapper fish head (optional)
1 Tbsp. canola oil
1 medium yellow onion, finely chopped
3 garlic cloves, peeled and smashed with the side of a knife
1 large plum tomato, finely chopped
6 cups shrimp, lobster, or fish stock, or substitute water
¼ cup tamarind extract, plus more as needed
3 Tbsp. fish sauce, plus more as needed
3 bird's eye chiles, lightly bruised with the side of a knife
1¼ tsp. sugar
¼ cup sinigang powder (optional)
One 2-lb. red snapper, gutted and cleaned
12 cherry tomatoes, halved
2 small shallots, quartered
¼ pound long beans, cut into 1-in. pieces
8 okra, sliced on the bias ¼-in.-thick
2 medium Asian eggplant, sliced on the bias ½-in.-thick
½ cup thinly sliced daikon
4 cups trimmed and coarsely chopped yam leaves, or substitute spinach or bok choy
Steamed jasmine rice, for serving
Instructions
Step 1
Using a large chef's knife, remove the snapper head and tail and set aside. Cut the rest of the fish crosswise through the spine into 2-inch-wide pieces. Place the fish head, tail, and pieces in a large bowl and refrigerate.
Step 2
Make the broth: In a large pot, heat the oil over high heat until it just begins to shimmer. Add the onion and cook, stirring frequently, until translucent, about 4 minutes. Add the garlic and cook until fragrant, about 1 minute more. Stir in the plum tomato and continue cooking until most of the liquid has evaporated, 3–4 minutes. Add the stock, tamarind, fish sauce, chiles, sugar, and sinigang seasoning, bring to a boil, then turn the heat to low to maintain a strong simmer. Cook until the broth has reduced slightly, the onions are very soft, and the flavors have melded, about 30 minutes. Adjust the seasoning to your taste with more tamarind extract or fish sauce if desired, then set a fine mesh strainer in a large bowl or heatproof container and strain the broth, discarding any solids. (The broth can be used immediately, or may now be cooled to room temperature and stored, tightly covered, in the fridge for up to 3 days or the freezer for up to 1 month.)
Step 3
When you're ready to finish the singigang, pour the broth into a large, wide pot and bring to a boil over high heat. Turn the heat down to low to maintain a gentle simmer, then add the fish pieces (including the head and tail) and cook without stirring, until the fish flesh begins to feel firm, 3–4 minutes. Add the cherry tomatoes, shallots, long beans, okra, eggplant, and daikon and continue cooking until the fish is just cooked through and the vegetables are tender but still crisp and vibrant, about 3 minutes more. Remove from the heat, stir in the yam leaves, and set aside until the greens have wilted.
Step 4
To serve: Divide the fish pieces and vegetables among 6 wide soup bowls. Top each with some of the broth and serve with steamed jasmine rice on the side.