Recipes
Pasta, Patate, e Provola (Cheesy Italian Pasta and Potato Stew)
Not sure what to do with those random pasta bits kicking around your pantry? This Neapolitan dish is your answer.
Serves

6

Cook

1 hour 30 minutes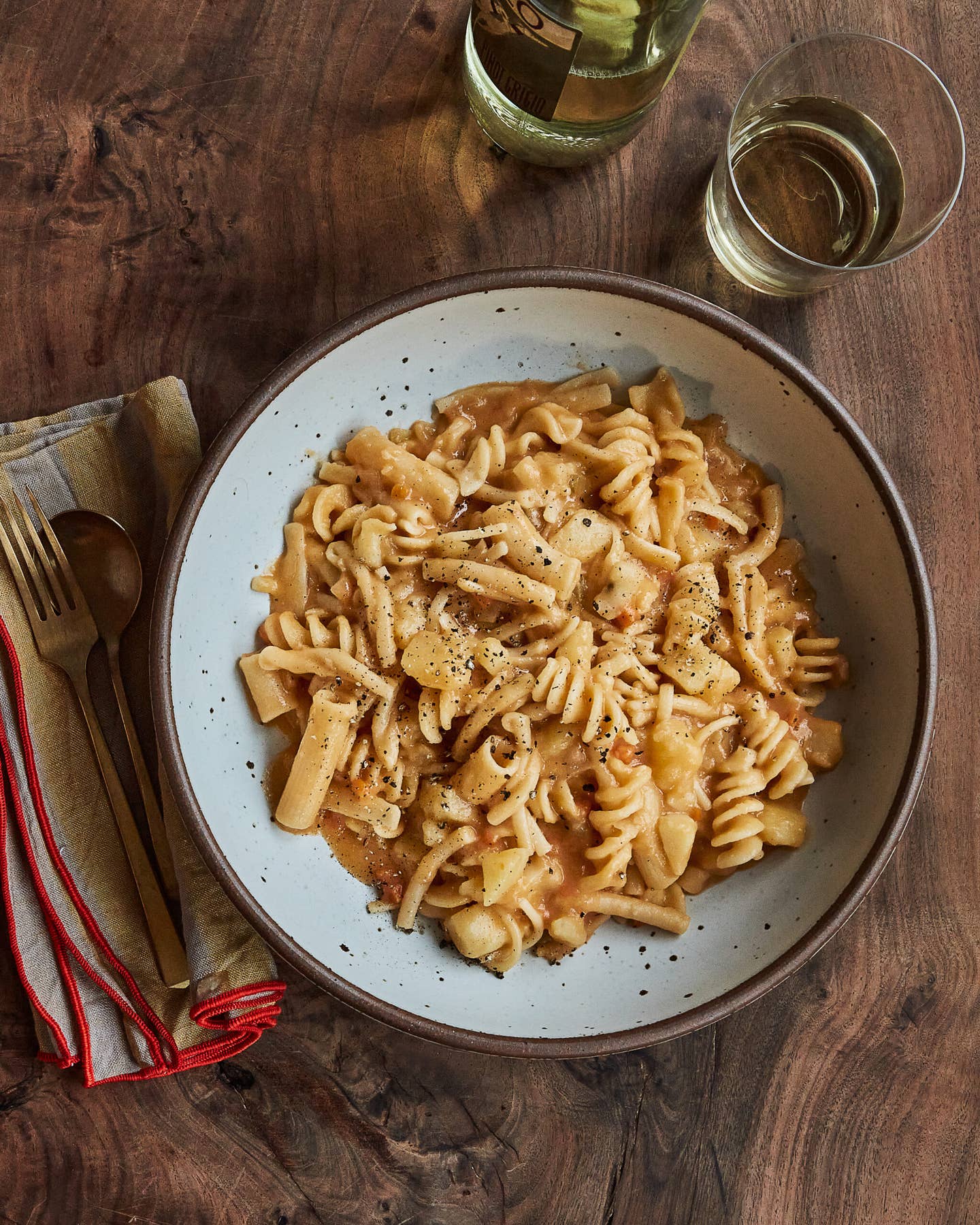 This is Southern Italian food at its finest—nourishing, flavorful, and made with only a few affordable ingredients. If your pasta shapes vary a lot in width, boil the thicker pieces a few minutes longer than the thinner ones, so they become al dente at about the same time.
Ingredients
¼ cup extra-virgin olive oil
1 garlic clove, finely chopped
1 medium carrot, finely chopped
1 medium celery stalk, finely chopped
1 medium yellow onion, finely chopped
½ tsp. fine sea salt, divided, plus more as needed
¼ cup tomato sauce, preferably homemade
5 medium Yukon Gold potatoes (1½ lb.), peeled and cut into ½-in. cubes
6–7 cups vegetable broth, or water, warmed, divided
1 lb. dried pasta mista corta (or any mix of dried pastas), or ditali
8 oz. young or sharp provolone cheese, coarsely grated (2 cups)
Instructions
Step 1
To a large pot, add the oil, garlic, carrot, celery, onion, and ¼ teaspoon of the salt. Turn the heat to medium-low and cook, stirring occasionally, until the vegetables are soft but not browned, about 20 minutes.
Step 2
Add the tomato sauce, potatoes, and remaining salt and cook, stirring occasionally, until the potatoes begin to soften, about 20 minutes.
Step 3
Pour in 5 cups of the stock, turn the heat to medium, and cover. Simmer until the potatoes are tender when pierced with a fork, about 20 minutes. 
Step 4
Uncover the pot, turn the heat to high, and add the pasta and enough of the remaining broth to cover by 1 inch. Cook—adding more broth ¼ cup at a time as needed to keep the pasta submerged—until al dente, 8–12 minutes. The texture should be like thick, chunky soup.
Step 5
Remove from the heat, stir in the provolone, and serve.